On 24 – 27 October 2022, FEDIL organized an ICT industry study trip to Israel with the support of the Luxembourg Trade and Investment Office Tel Aviv. The delegation was composed of representatives from ICT industry, government, and public research institutions.
The Israeli ICT sector is a vibrant ecosystem with a high rate of technological innovation and entrepreneurship. Throughout the years, Israel has become an ICT hub for developers in software, data communications, electro-optics, hardware design, and internet technologies, including cybersecurity software.
Facts and figures about israel's innovation ecosystem
Population: 9.4 million
Israeli High-Tech Industry as a growth engine of the economy
10.4% of total workforce
15% of total GDP
54% of total annual exports
7.337 start-ups and tech companies
428 Venture capital Funds
25.6 B $, a record in capital raising
494 Multinational R&D Centers
9 Public Universities
Diversity of innovation in multiple sectors
Mobile & Telecom
Enterprise software Cyber
Agri-tech
Automotive
IIoT
Water & Energy
FinTech
Digital Health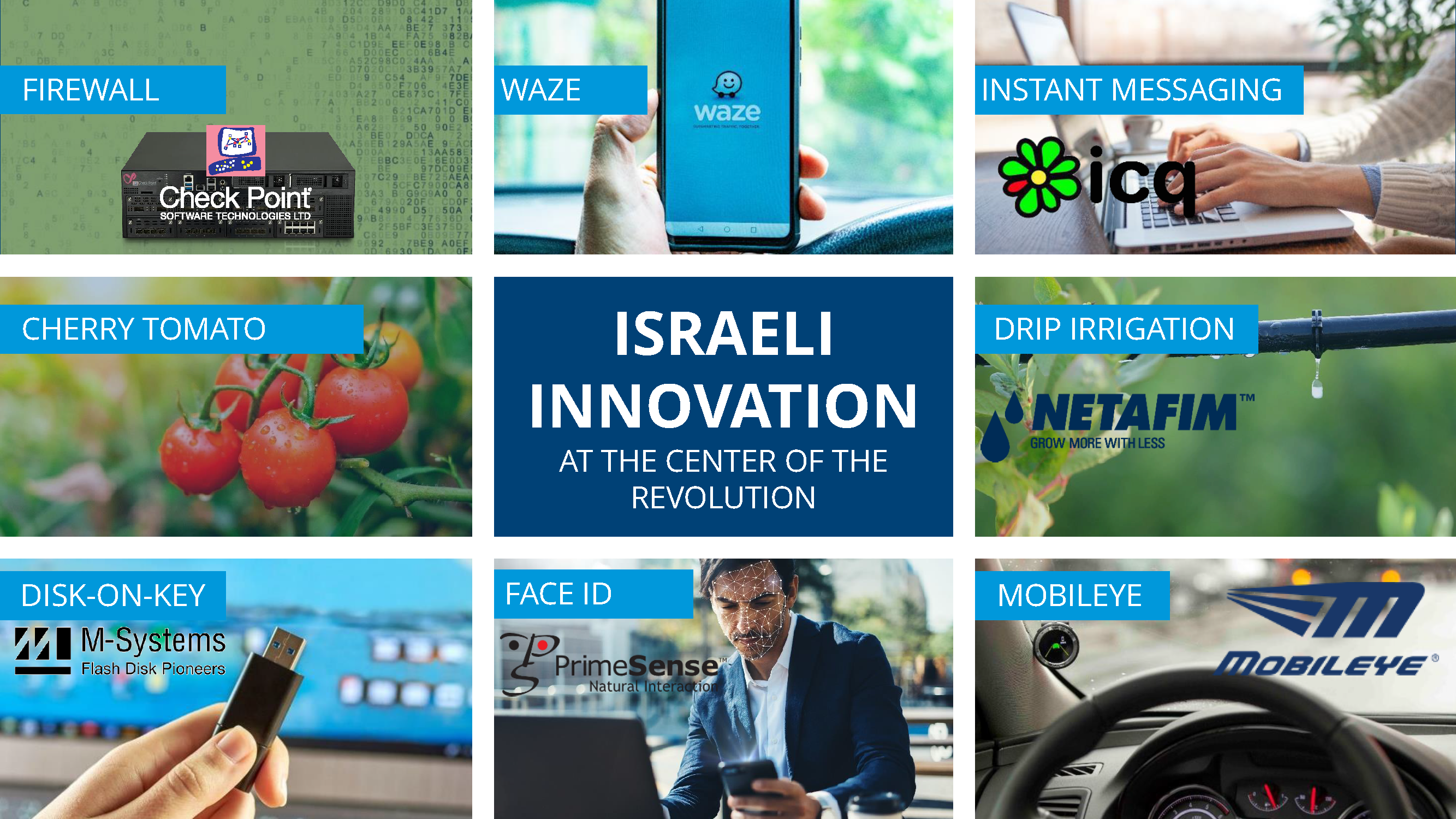 During the visit, the delegation met with local players from the ecosystem, including companies, startups, universities, R&D centers, incubators, governmental bodies, and so forth to understand and gain insight into Israeli policy, discover its various facets, and strengthen the business relationship and exchange of ICT experiences between Israel and the Grand-Duchy.
START-UP NATION CENTRAL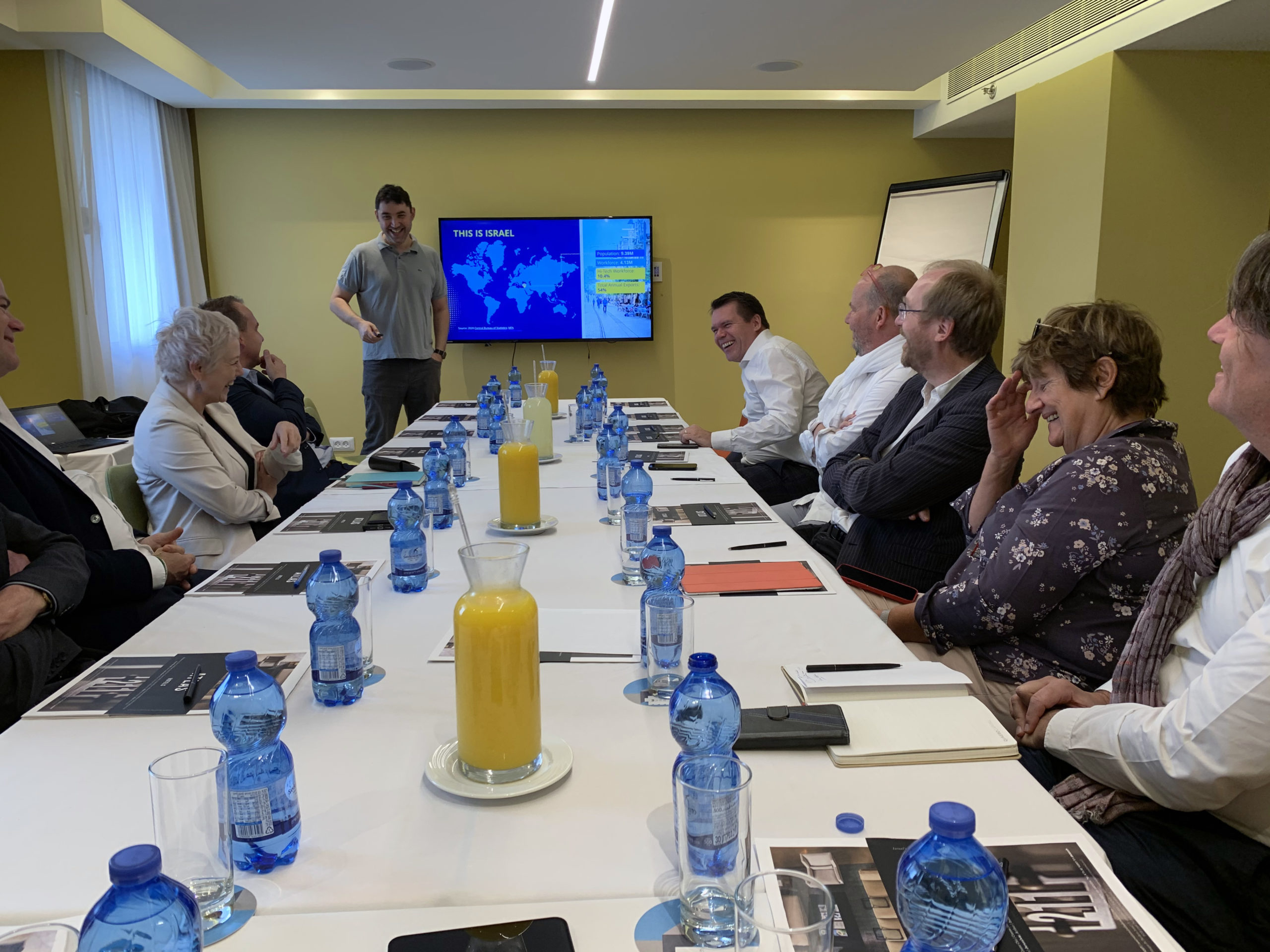 The delegation started its journey by meeting with Jeremie Kletzkine, VP of Business Development, at Start-Up Nation Central and its global ambassador, scouting for business opportunities and partnerships all around the world.
Jeremie provided an overview of the Israeli innovation ecosystem and its various facets, which was an excellent introduction to the trip.
Start-Up Nation Central (SNC) is an independent non-profit that builds bridges to Israeli innovation. SNC connects business, government, and NGO leaders around the world to Israeli innovation, helps develop technological sectors with high-growth potential, and accumulates knowledge and generates in-depth insights about Israel's innovation sector.
https://startupnationcentral.org
BLAVATNIK INTERDISCIPLINARY CYBER RESEARCH CENTER, ICRC
In order to find out more about cybersecurity research in public institutions, the delegation met with representatives of the Blavatnik Interdisciplinary Cyber Research Center. Dr. Yaniv Harel, Chief Strategy Officer, former Dell GM Cyber Solutions, mentioned that the Center is the first and the largest research center in Israel and emphasizes the importance of interdisciplinary research. The ICRC was established at Tel Aviv University in 2014 as a joint initiative with the National Cyber Bureau, Prime Minister's Office. Research topics at the Center include key issues such as security software, attacks on hardware and software, cryptography, network protocols, security of operating systems, and networks as well as interdisciplinary research such as the impact on national security, the impact on society, regulation, and the effects on the business sector.
Then, two research projects have been presented to the delegation: "Evaluating Organisational Anti-Phishing Campaigns on an Enterprise Scale", by Doron Hillman, PhD student and "A Sectoral Cyber Capability Maturity Model" by Dr. Lior Tabansky, Head of Cyber Research Development.
https://en-cyber.tau.ac.il/
GROVE VENTURES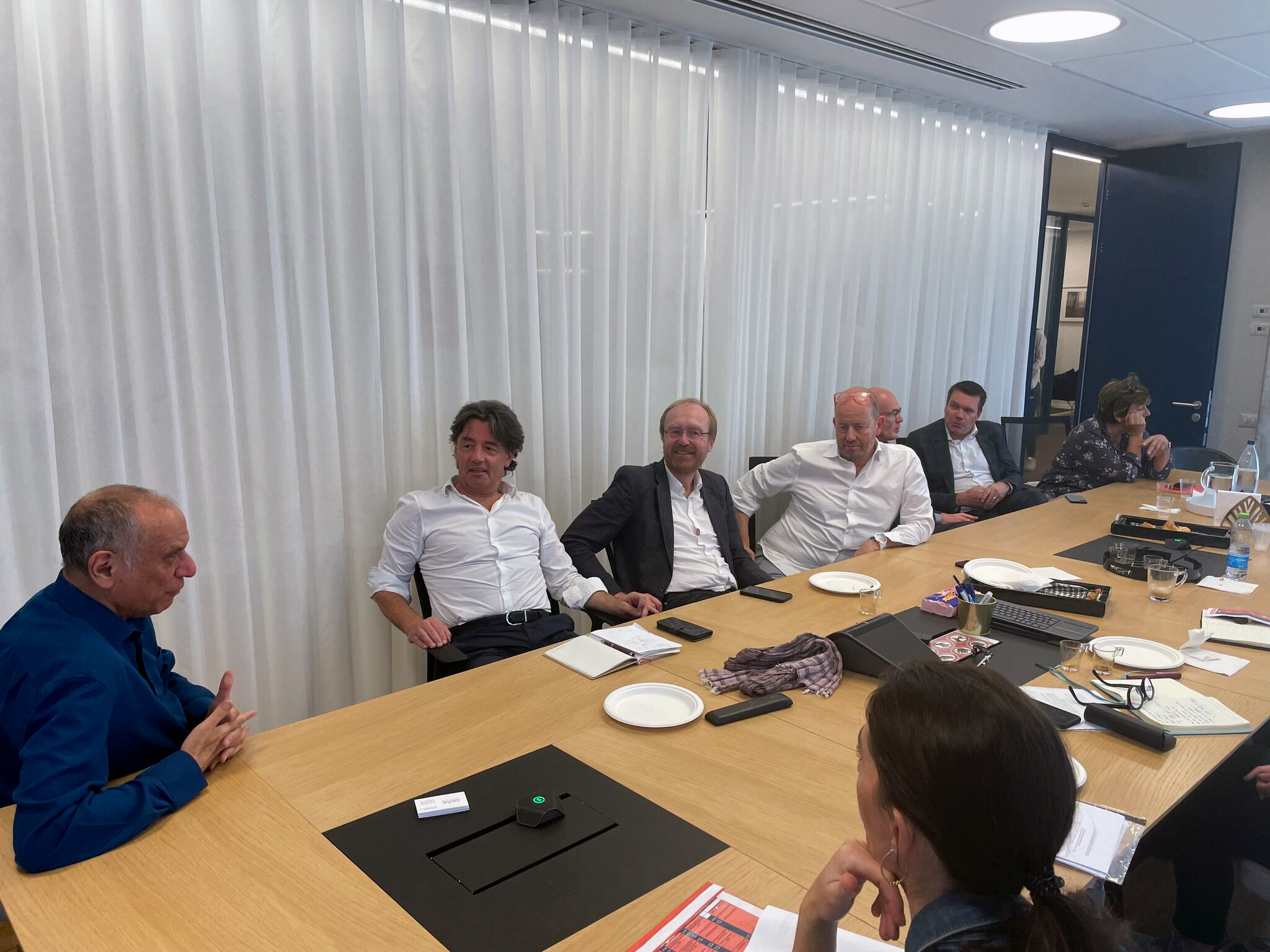 Alongside the trip, Israeli investment policy has been also tackled. To discuss the topic with private investors, the delegation met at Grove Ventures, a leading early-stage venture capital investment firm with over half-a-billion dollars under management.
In addition to Tal Ben-Moshe's (Head of Investor Relations & Value Creation) introduction to their investment strategy, the delegation had the honor to meet with Dov Moran. Not only being the Managing Partner of Grove Ventures and one of the world's most prominent Israeli hi-tech leaders, Dov Moran is also best known as the inventor of the USB flash drive.
https://www.grovevc.com/
Two of Grove's portfolio companies had the opportunity to present their solution to the delegation: 3d Signals and OneLayer.
3D SIGNALS
3d Signals has developed a solution designed to accelerate manufacturers' digital transition into the Industry 4.0 era. Its solution enables immediate visibility into production floors through the quick, noninvasive, machine-agnostic deployment of a wide range of sensors. The solution has been proven to significantly improve machine productivity and overall equipment effectiveness within three months of installation.
https://3dsignals.com/
ONELAYER
OneLayer is a cybersecurity platform dedicated to private cellular networks. OneLayer enables enterprise-grade security for Private LTE/5G networks, with a flexible platform that brings existing security methodologies to a new type of network.
The company extends and adopts existing security methodologies to this new type of network and provides full asset visibility, context-based segmentation, cellular anomaly detection and response, and zero-trust device connectivity.
https://one-layer.com/
floLIVE
The delegation has been welcomed by the CEO, Nir Shalom at floLIVE offices. The company offers advanced 5G network solutions, both privately and over the cloud, and a full suite of global cellular connectivity services for IoT use cases.
floLIVE operates floNET – a one-of-a-kind Global Connectivity Service designed and built especially for IoT. With floNET, enterprises can enjoy seamless global connectivity for their connected devices – fully compliant, will high performance, no matter where they operate.
https://flolive.net/
CAJA Robotics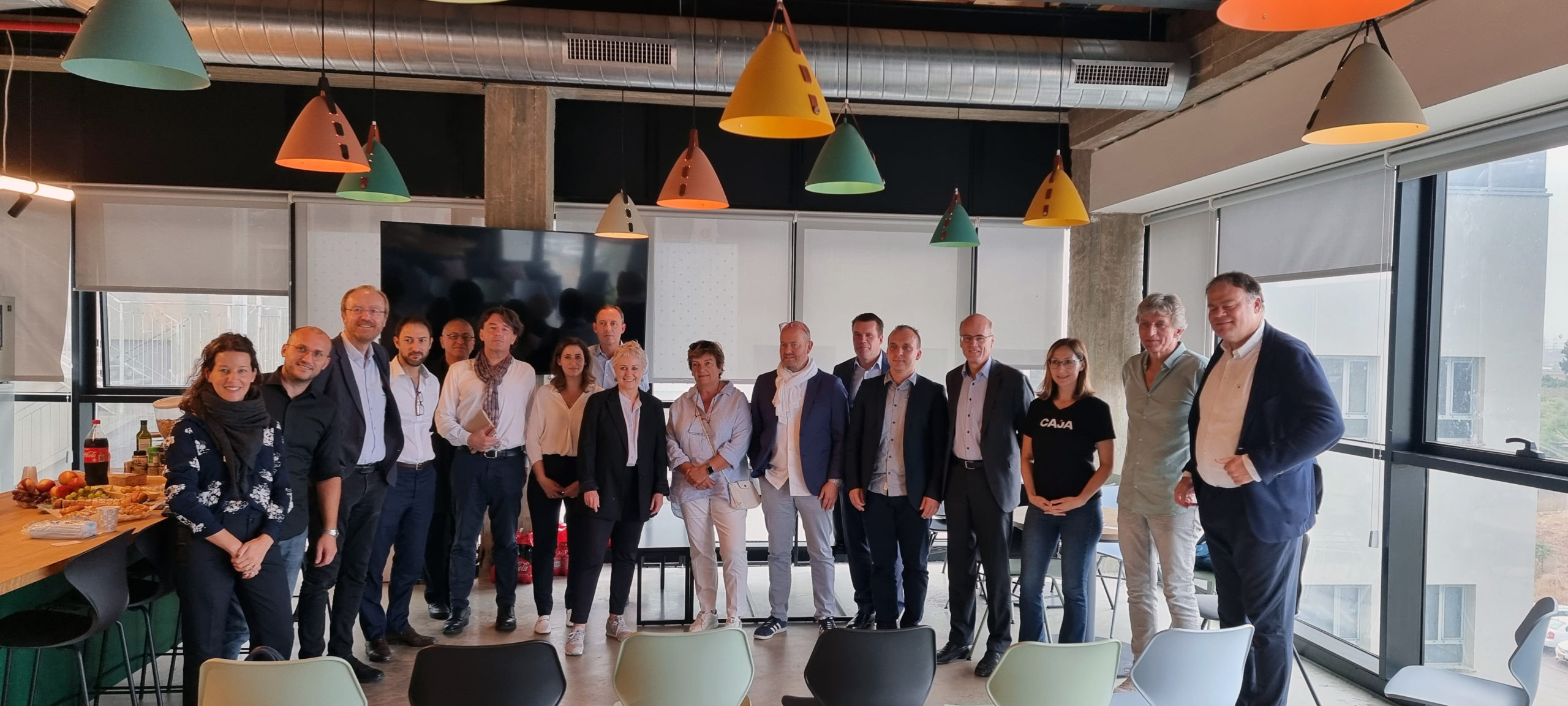 On the second day, the delegation headed north of Tel-Aviv, to Binyamina, to visit CAJA Robotics, active in warehouse automation. The meeting started with Hanna Yanovsky, General Manager & CRO and Katya Zellermayer, Business Development and Strategic Partnerships, who presented the AI-powered solution, empowering warehouse efficiency in an ever-changing industry and the robots, made in Israel. They explained that CAJA optimises workflows without large investments in warehouse infrastructure, as the robotic system adapts to the warehouse and not vice versa, by using existing infrastructure like shelving, boxes, flooring. As part of the visit, the delegation visited the Demo lab, where robots performed a « ballet" between shelves and picking stations. The lab is where all updates and new developments are tested before going live.
https://cajarobotics.com/
EXAWARE
On its way back to Tel Aviv, the delegation made a stop in Netanya to meet with exaware representatives. Itzik Zion, former CEO & Board Member and Jonathan Maidenberg, VP R&D, explained that exaware has redefined routing software that is engineered specifically for carrier networks. exaware is a leading provider of carrier-grade network operating systems for mobile and fixed telecom service providers. With incredible scale potential and unprecedented rich features, exaware's open NOS software is ported to low-cost white-box equipment.
https://www.exaware.com/
SIGAT OT SOLUTIONS
As SIGA established its European headquarters in Luxembourg in February 2022, it made sense for the delegation to meet with the local team. Hagai Galili, COO, presented SIGA's OT (Operational Technology) anomaly detection solution, a real-time monitoring of the raw electric signals (sensors & actuators) of critical industrial assets. The SigaPlatform answers OT daily challenges such as Operational reliability, safety management and cybersecurity. « SigaPlatform » is a comprehensive process anomaly detection system that monitors critical assets using electrical signal-based predictive analysis and artificial intelligence. It cannot be hacked or manipulated from the operational network, and it can be used to maintenance and operational needs as well as for cyber-security.
https://sigasec.com/
ISRAEL INNOVATION AUTHORITY, IIA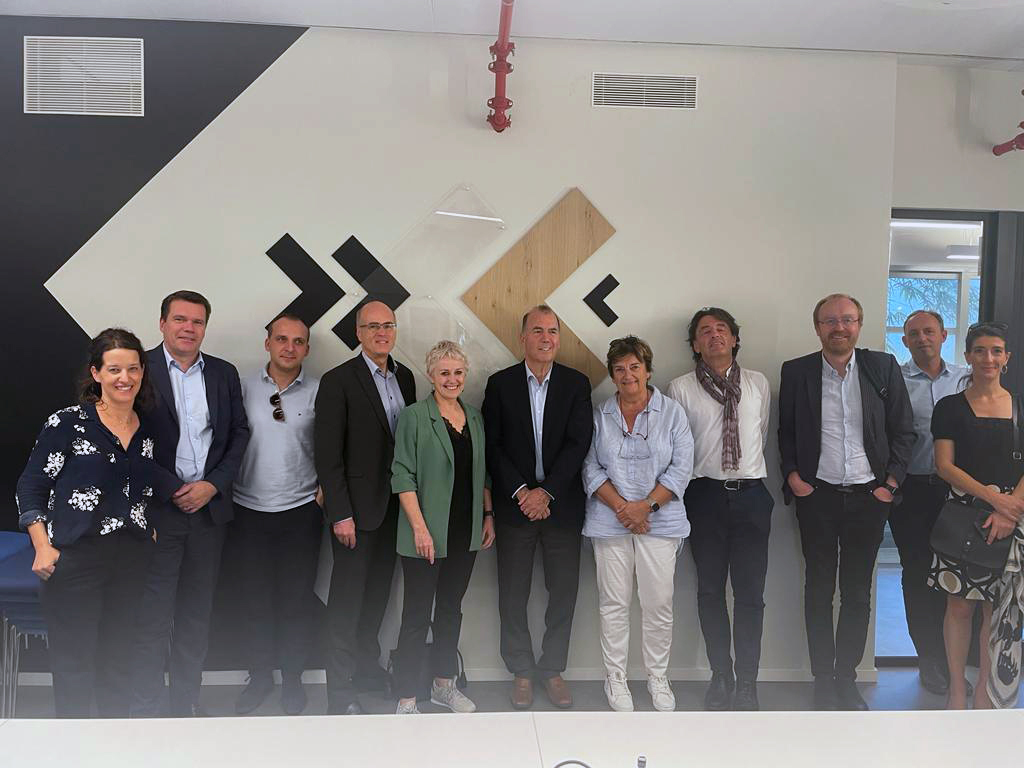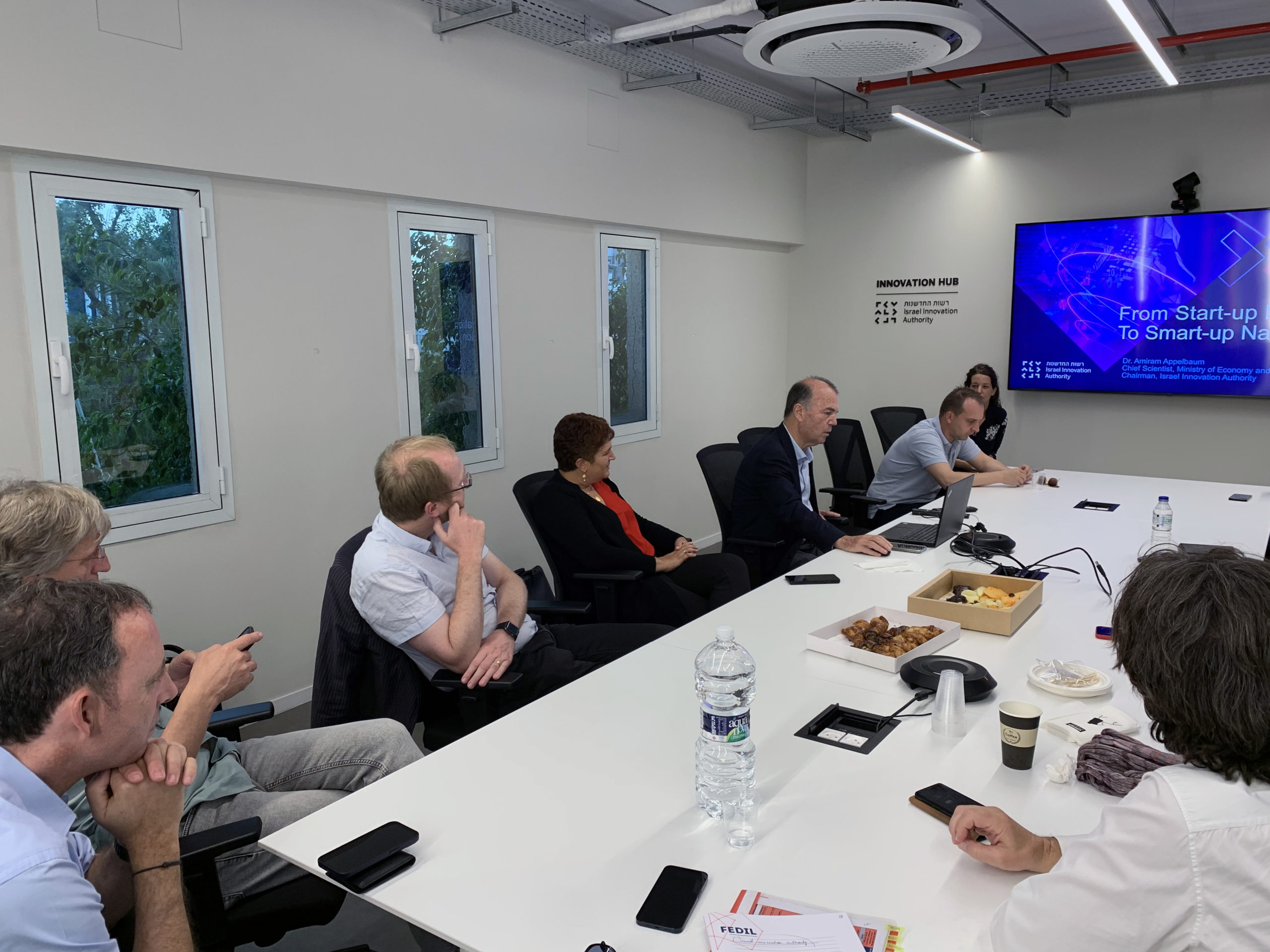 The delegation was delighted to meet with Dr. Amiram Appelbaum, Chief Scientist, Ministry of the Economy and Industry Chairman of the IAA who explained how Israel switched from a Startup nation to a Smart up Nation. The Israel Innovation Authority, an independent publicly funded agency, was created to provide a variety of practical tools and funding platforms aimed at effectively addressing the dynamic and changing needs of the local and international innovation ecosystems. The IIA mission's is to promote technological innovation as a leverage for inclusive and sustainable economic growth. The IIA invests in the R&D of innovative technological products, gears up for future technologies and enables activities, removing barriers, catalyst for innovative regulation, human capital.
BEER SHEVA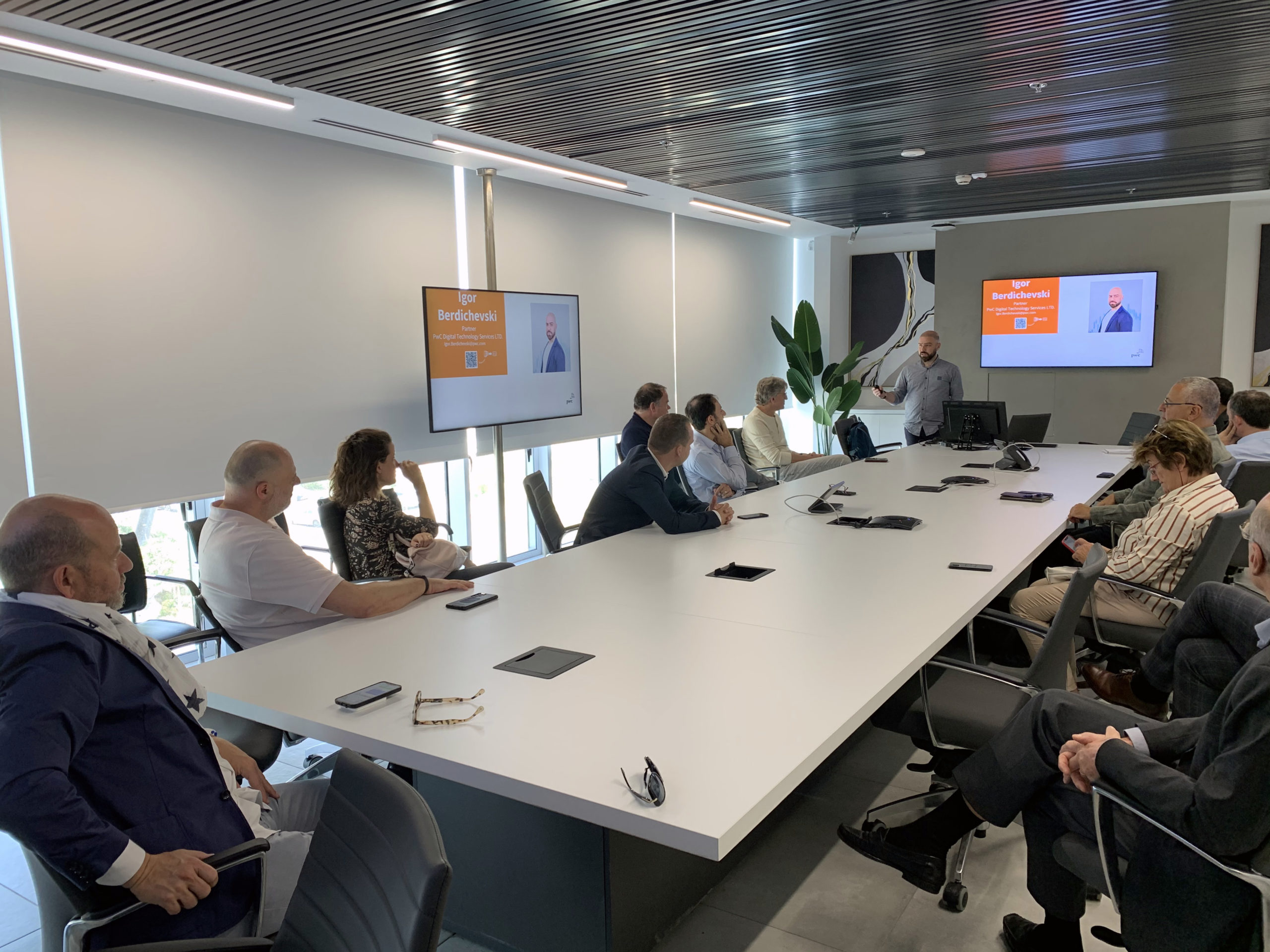 On the last day of its journey, the delegation moved to Beer Sheva, south of Tel Aviv, new hub for cybersecurity activities.
PwC Israel's team composed of Yuly Thipis, Project Manager, Igor Berdichevski, and Oren Hadar, Director, introduced the delegation to the head of the National CERT, who presented its operation. She described how the team detects and combats cybersecurity threats on a national scale every day. Next, PwC's team led the delegation on a tour of the ICS Cybersecurity National Lab with Lior Atar, Head of Cybersecurity Uni at the Ministry of Energy, which allows organisations to test their environment under real-world conditions.
TESTIMONIALS
"As usual with study trips organised from Luxembourg to Israel, there were many interesting exchanges between the delegation and local companies & public sector entities. Israel, at the forefront of Innovation, R&D, Start-ups and VC and PE financing is always a good place to get inspiration from. More than that, FEDIL together with Ministy of Economy will successfully put the elements in place to attract Israeli companies to Luxembourg as a launching pad for Europe. 2 small countries can, should and must work closer together!"
Daniel Schneider – Tech Entrepreneur – M&A – Honorary Consul General of Israel
"The LTIO is proud to support the fostering of positive business and economic relationships between Luxembourg and Israel and specifically we were honored to welcome the FEDIL delegation in Israel and to facilitate connections with Israeli players. There is a huge potential for business outcomes and connections created."
Yael Idan – Business Development Manager – Luxembourg Trade and Investment Office in Israel.