For over 100 years, the CERATIZIT Group has been developing and producing sophisticated hard material cutting and wear protection solutions. The products range from highly specialised cutting tools, indexable inserts and carbide rods to new types of carbide and cermet grades for wood and stone working. The constant product innovation enables customers to efficiently create machines, tools, applications, and consumer goods, which shape our immediate environment and are part of our everyday life.
In its quest for excellence, CERATIZIT offers for the cutting tools industry a full range of products, tailor-made solutions, and services in first-class quality to accompany its customers in benefiting from the best performance of cutting tools allowing them to improve their productivity. Aiming for this objective, CERATIZIT is paving the way for the digital future of machining. A central element of this is the ToolScope monitoring and control system.
ToolScope is an add-on device connected to the machine tool allowing real-time control of machining parameters. Indeed, by continuously recording signals from the machine that are generated during the production process, the data acquired, is used to monitor and control the machining parameters such as the cutting speed, the feed rate, and the cutting depth, which can then be adjusted towards the best and most stable machining conditions, aiming at increasing machining performance and machined product quality to achieve a higher productivity rate for customer.
During the entire machining process, be it turning, drilling, milling or another process, each CERATIZIT customer uses its tools individually, generating its own profile of use and data associated with it. Currently, ToolScope already acts as a security device. The real-time supervision is continuously monitoring what is currently happening in the machine itself, for instance, when there is a threat that a tool could collide with the workpiece it will immediately come to a halt and avoid further damage in the machine or with the machine. With a pre-set threshold a significant and accelerated wear can be detected, bringing the machine safely to a halt, requesting a changeover of the tool to safely continue production. This creates a tool usage footprint, which an AI algorithm can learn from. AI will then be able to provide optimised settings that allow ToolScope to operate for an individual purpose of a specific customer. The AI model will continuously improve with the usage and new parameter settings are fed back to ToolScope for an optimised, stable machining process. The result is more performance with an increased workpiece quality for an individual application.
By providing its customers with cutting tools and tailored digital solutions like ToolScope, CERATIZIT wants to democratise machining operations by enabling customers to easily optimise their machining performance without having to compromise their workpiece quality, so they can get the best value for their product in terms of cost effectiveness and quality.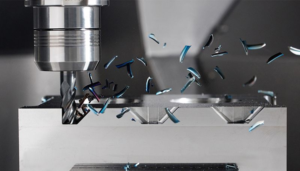 ToolScope: Maximise machining performance

Stabilising machining conditions to avoid chatter marks in the workpiece (l.) optimised machining (r.)