Joaneo® produces NFC and RFID antennas and inlays printed on paper-based substrates, using an eco-friendly production process. All made in Luxembourg, from design to distribution.
More than 40 billion RFID (Radio Frequency Identification) and NFC (Near Field Communication) inlays are being produced annually, the majority in China. These standard inlays are typically being produced on plastic (Polyester) using a technique called etching, a manufacturing process that is not allowed in Europe because it is prone to pollution and waste. The impact of the Covid-19 pandemic has caused a global shortage of inlays and IC (Integrated Circuits), showing increasing dependency of the industry on Asian manufacturers.
The market of RFID and NFC tags in the retail, health care or logistics industries, to name only a few, is of increasing importance and the challenge is to have a more sustainable approach to meet the increasing demand. Building on its 22+ years of experience in the printing industry, Victor Buck Services (VBS), a 100% subsidiary of the POST Luxembourg group, has developed an innovative and eco-friendly industrial additive printing process, to print electronics on paper. The printed electronics are marketed under the brand name 'Joaneo' as a tribute to Johannes Gutenberg, who revolutionized the printing industry in Europe.
Joaneo's RFID antennas and inlays are produced on-site in Luxembourg. The company combined its R&D efforts with its experience in industrial printing to provide innovative solutions for printing inlays. VBS has invested in a manufacturing facility in Foetz and has converted an existing industrial site to a 1.000 m2 cleanroom to produce inlays. The innovative production process is more eco-friendly versus traditional production techniques. This local production process is set up to minimize waste and carbon footprint, deploying low waste additive printing process and using locally sourced materials and recyclable paper inlays.
With the precise application of conductive ink, Joaneo's antennas and inlays can transmit and receive RFID and NFC signals. These signals carry the pre-programmed functions and information required by their clients. From tracking and logistics to consumer engagement, VBS printed electronics provide secure and high-caliber RFID and NFC applications.
RFID tags are most often required for track and trace applications, commonly in manufacturing and retail. The inlays are produced to the latest ISO 18000-6, ISO 14443 and ISO 15639 standards for UHF (Ultra High Frequency) and NFC (Near Field Communication). The main advantage of UHF is that it can perform bulk readings from a distance by using dedicated readers. The result is greater visibility of the supply chain and increased inventory accuracy. NFC tags can be used with most smart phones nowadays.
SOCIAL AND ENVIRONMENTAL RESPONSIBILITY
Joaneo's commitment to social and environmental responsibility is essential to their tailored production process:
the additive printing technology uses no water, no vacuum and no additional chemicals, resulting in very little waste compared to other techniques, such as etching;
the paper antennas and inlays are recyclable. Once their job is complete, the clients can easily deposit them in any standard recycling facility;
Inlays are made in Luxembourg and shipped from the same location, resulting in reduced transportation costs and a low carbon footprint. Materials are sourced locally as much as possible;
VBS printing capabilities allow them to print the exact amount of required inlays. Even small print runs are welcome and easily accommodated.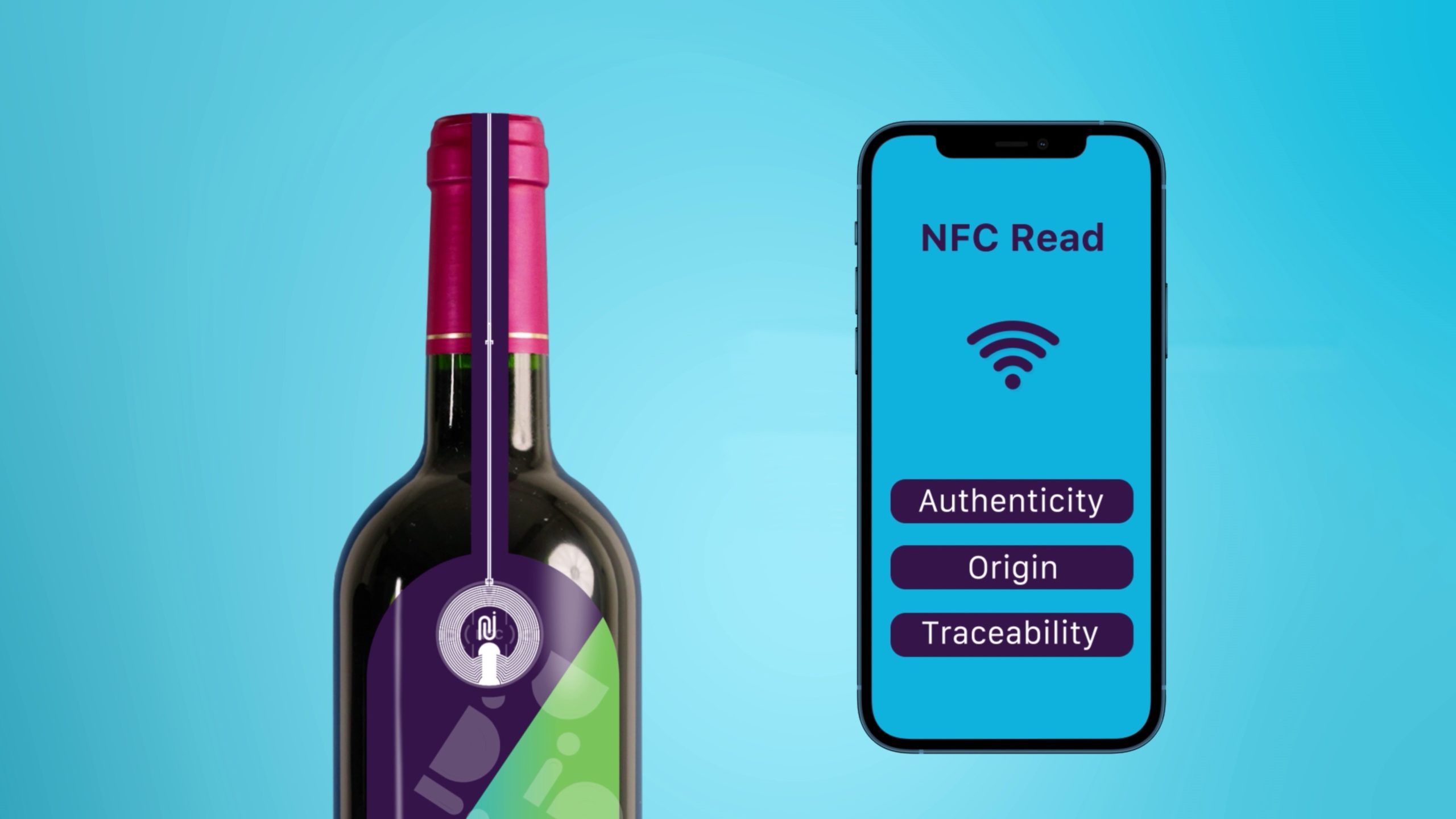 Use case: Tamper loop to reduce counterfeiting, improve traceability and reduce waste.
Joaneo is currently working on NFC applications to prevent tampering. A tamper loop can be used in any industry that has strict quality control and health regulations: food, wine and spirits, pharmaceuticals, cosmetics… Jars and bottles are for example often sealed with a tamper loop to ensure that they are not opened before being sold. As the Joaneo paper inlay tears easily, it is the ideal solution to know immediately if someone has tampered with your product. The Joaneo printed electronic inlay works in tandem with different software solutions. Thanks to the interaction with the inlay and the consumer's mobile phone (NFC supporting both iPhone or Android), you could also know when and approximately where it happened. This solution allows you to track the problem back to the source or identify unwanted grey-market imports. The latest IC developments also enable temperature monitoring without the need for a battery. These new RFID tags in development are instrumental for preventive maintenance and cold chain monitoring of perishable goods in food and healthcare applications.
Find more about this use case in this video:
More information about Joaneo:
www.joaneo.com
DEFINITIONS
Inlay (synonym: tag)
An inlay is an electronic circuit (composed of an antenna and a chip), that receives and transmits information using wireless energizing and connection (passive Radio Frequency transponder technology). RFID inlays are used in multiple applications such as: in food labels and packages for the tracking of freshness and temperature of the food products; in pharmaceuticals to ensure their authenticity, tracking…; in secure documents (e.g. passports, diplomas) to ensure their authenticity and prevent counterfeiting; in logistics for the tracking and geolocation of goods.
RFID/NFC
RFID (Radio Frequency Identification) and NFC (Near Field Communication) are some of the wireless technologies that enable inlays to exchange information. UHF (Ultra High Frequency) is a type of RFID technology that can be read from a distance of up to many meters. NFC is available in all smart phones and dedicated for short read distances.