On 14 – 18 May 2023, FEDIL organised a Digital & Innovation study trip to Boston and Cambridge, with a delegation composed of top leaders in the field of ICT, industry, representatives of the Luxembourg Government, public research and academia.
The Boston and Cambridge ecosystem boasts a wealth of assets that make it a thriving hub for innovation, research, and entrepreneurship. This vibrant region is home to prestigious universities, cutting-edge technology companies, world-class healthcare institutions, and a rich history that fuels its unique character contributing to the success of this remarkable ecosystem.
World-class academic institutions: The region is anchored by renowned academic institutions such as Harvard University and the Massachusetts Institute of Technology (MIT). These institutions attract top talent from around the world, fostering a culture of intellectual curiosity, collaboration, and groundbreaking research. The proximity of these universities creates a fertile ground for collaboration between academia and industry, driving innovation and knowledge transfer. Their strong emphasis on entrepreneurship and technology transfer has led to the creation of numerous successful startups and spin-off companies.
Innovation and Research: Boston and Cambridge are synonymous with innovation. The ecosystem benefits from a vast network of research centers, incubators, and accelerators that actively support and nurture the growth of startups. Collaborative initiatives like MIT's Media Lab, Harvard Innovation Lab, and MassChallenge provide entrepreneurs with access to resources, mentorship, and funding opportunities, propelling the development of pioneering ideas and technologies. The region's academic institutions are renowned for their research capabilities, leading to groundbreaking discoveries in many fields. Boston and Cambridge have been at the forefront of significant technological advancements, including biotechnology, pharmaceuticals, robotics, artificial intelligence, and clean energy. The presence of cutting-edge research facilities, laboratories, and incubators creates an environment conducive to translating scientific discoveries into real-world applications.
Robust and diverse industry: The region's ecosystem boasts a diverse range of industries, from biotechnology, pharma and healthcare to software development, robotics, finance, and technology. This diversity creates a dynamic and interconnected ecosystem, allowing for cross-pollination of ideas and collaboration across sectors.
Highly skilled workforce: Boston and Cambridge attract some of the brightest minds in the world, thanks to the exceptional talent pool nurtured by its universities and research institutions. The region boasts a diverse workforce skilled in areas such as technology, engineering, healthcare, and life sciences. This talent pool enables companies to drive innovation, undertake complex research projects, and pioneer new solutions to global challenges.
Collaborative culture: The ecosystem thrives on collaboration and knowledge sharing. The proximity of academic institutions, startups, established companies, and venture capital firms fosters an environment of cross-pollination, where ideas, expertise, and resources are readily exchanged. Regular meetups, conferences, and networking events provide opportunities for individuals and organisations to connect, learn from each other, and forge valuable partnerships.
In conclusion, the Boston and Cambridge ecosystem stands as a testament to the power of collaboration, innovation, and knowledge. The assets of the Boston and Cambridge ecosystem create a thriving environment that attracts entrepreneurs, researchers, innovators, and investors from around the world and from diverse domains. This dynamic blend of academia, industry, and supportive resources ensures a continuous cycle of innovation, propelling the region forward as a global leader in technology and entrepreneurship. As a result, Boston and Cambridge remain at the forefront of innovation and serve as a model for other regions aspiring to build successful innovation ecosystems.
Day 1: Focus on Health Technologies
The delegation started its journey by deep diving into the Boston health technologies ecosystem
Linus Health
Maintaining brain capacity throughout life is certainly the uppermost goal in neuroscience. Brain health is presently often being addressed 10 to 15 years too late, when symptoms already occur. Standard care systems wait until there is an actual impairment. Once there, it takes 2 to 3 years to get a diagnosis. Besides, in neurology, existing medicine is effective with diagnosing and treating the disease, but not as good at early detecting and preventing the illness. The use of AI-assisted technology can certainly make a difference when it comes to lower healthcare expenses, bring in efficiency, and move from a sickness disease focus to a health focus system. With this objective, the digital health company Linus Health is dedicated to bringing brain health into its rightful place in the global standard of care and make it accessible to everyone. To achieve this, the company intends to shift brain disease detection upstream. Early detection is the key: being able to assess people as early as possible to get a diagnosis and intervene before significant brain loss occurs.
David Bates, PhD, CEO, outlined that they choose to orient the company's developments on Alzheimer's, which is the most common cognitive disease. The value proposition behind is to reduce cost incurred by impaired patients. He described how their solution, used by primary care practitioners as an early detection assessment tool of cognitive disorders, will bring cost savings to the healthcare system.Linus Health enables primary care providers to streamline diagnosis, often in collaboration with a neurologist.
The delegation was curious about understanding how to maintain a sustainable healthcare system and, at the same time, a sustainable business proposition addressing the need.
David Bates mentioned that their solution is competing with doctors who do not use preventive measures and paper-based tests, which are subject to bias and not as accurate as Linus Health's digital assessment tool. This digital cognitive assessment platform delivers a sensitive and practical means of enabling early detection of cognitive impairment in less than 3 minutes, compared to the up-to-now 2 to 3 years once first symptoms happen – a major step change in the diagnosis of Alzheimer's. Hence, they empower primary care providers to make the diagnosis with actionable clinical guidance, in a very short time and at a very early stage of the cognitive impairment. Through this value-based care support, Linus Heath supports an effective clinical triage and supports patients with personalised action plans and proactive interventions.
Alvaro Pascual-Leone, MD, PhD, Co-Founder and Chief Medical Officer, discussed how the AI model is trained. The more data the model is trained on and the more users there are, the more accurate and the more valuable the data are. It is a feedback process to the system to keep finetuning the recommendations. The company started to collect data 13 years ago, mainly from the clinic system.
This meeting was of particular interest to the representatives of the Luxembourg health sector. Indeed, as Luxembourg would like to position itself as an entry point to the European health market and given the work conducted on Parkinson's, a possible business case set up in collaboration with Linus Health could show the economic impact, when applied to Luxembourg's healthcare system. On top of that, Luxembourg has the data centers needed to store the patient data in a secure way.
SERES Therapeutics
As strong research work on microbiome is ongoing in Luxembourg, led by the Luxembourg Center for Systems Biomedicine at the University of Luxembourg, the meeting with Seres Therapeutics was a must and gave an insight into the human microbiome, the full array of microorganisms that live in and on our body, being intricately connected to our health.
Seres Therapeutics is a late-stage clinical biotechnology company with a strong development pipeline and rigorous scientific underpinning, which works on treatments for diseases that progressively become immune to antibiotics, by modulating the function of the human microbiome. Their mission is to help patients worldwide with revolutionary microbiome therapeutics. To achieve this goal, the company aims at leveraging millions of millions of years of microbiome interaction with human cells to use the findings for the benefits of medicine. Good bacterial cells are used as drugs; they are transplanted into the body of sick patients to restore the balance of complex microbial communities living in their gastrointestinal tract. Thereby it is assumed that since they are used to living in the human body, they should be safe, including in the body of highly immune-compromised cancer patients. This safety profile is the first benefit. The second benefit is that you are able to direct the bacteria used as drug to the right place in the body.
Encapsulated consortia of commensal bacteria are designed to target multiple disease-relevant pathways simultaneously, which is called combination therapy. While combination therapy is a way of increasing the drug efficiency by putting together multiple drugs, it usually also leads to increased toxicity or side effect. Thanks to Seres' technology, the consortium of bacteria can be designed to target multiple diseases simultaneously, while maintaining the aforementioned safety profile. Combination therapy in a single drug is the concept of the company.
Matthew Henn, PhD, Executive Vice-President, Chief Scientific Officer, introduced the company, explaining that it all started with a 7 million dollars investment. Now, they raised 133 million dollars. The biggest challenge faced at the beginning was to get funded for the first time, because the company evolved in such a new area. They had to layer the concept of what the company was going to be and, as a flagship concept, they designed a reverse translational pro discovery pipeline, the platform where you get human data sets. He outlined that the company went public in 2015 enabled by its first clinical data, and from there developed a Proof of Concept (POC).
Matt Henn described the development process of the drug as well, how it works and how they correlate drug behavior in the lab with drug in the human body, based on developed models. Besides, the company realised at a very early stage that they had to invest into their own drug production facility and developed manufacturing capabilities.
Finally, it is worth mentioning that when the meeting took place, the company just got its first approval by the U.S. Food and Drug Administration (FDA) for VOWST, first-in-class oral microbiome therapeutic. VOWST is commercialised jointly by Seres and Nestlé Health Science, each company being entitled to share equally in commercial profits, which makes this cooperation quite a unique partnership.
Broad Institute of MIT and Harvard
The FEDIL delegation has been greeted by Kristen Zarrelli, Associate Director, Government Relations, and Nadine Fornelos Martins, PhD, Senior Scientific Advisor in the Stanley Center for Psychiatric Research and Novo Nordisk Foundation Center for Genomic Mechanisms of Disease. Nadine is Luxembourgish, having been working at the Institute for 7 years.
The delegation had also the pleasure to meet with Dr. Todd Golub, Director and Founding Core Member, who introduced the Broad Institute, its vision and mission. He insisted on the importance of industry partnerships as an enabler in drug discovery.
Founded in 2004 by Eric Lander and philanthropists Eli and Edythe L. Broad, the Broad Institute of MIT and Harvard aims to improve human health by using genomics to advance our understanding of the biology and treatment of human disease, and to help lay the groundwork for a new generation of therapies. Broad scientists pursue multidisciplinary projects that aim to meet the most critical challenges in biology and medicine, focused on assembling a complete picture of the molecular components of life; defining the biological circuits that underlie cellular responses; unlocking the discoveries hidden inside complex sets of genomic and other biomedical data; developing and de-risking new therapeutic avenues to treat serious, complex human disease by understanding the biological mechanisms; and discovering the molecular basis of major infectious diseases and overcoming antibiotic resistance. The Broad Institute is home to a community of more than 6,500 members, including physicians, biologists, chemists, computer scientists, engineers, administrative staff, and representatives of many other disciplines. The Broad Institute is also deeply committed to technology and technology development. In-house teams with the expertise and organisation to carry out large-scale projects work closely with Broad scientists and other collaborators to tackle problems that cannot be done in a typical laboratory.
After a tour of the Broad Discovery Center, given by Rebecca Devereaux, Visitor Experience Assistant, the delegation had a discussion on the Broad Data and Computational Sciences and the Eric & Wendy Schmidt Center with Eric Banks, PhD, Computational Biologist & Senior Director of the Data Sciences Platform and Orr Ashenberg, PhD, Computational Biologist.
The Data Sciences Platform (DSP) is a methods development and software engineering group dedicated to maximising the impact of data sciences on life sciences. It is a team of software engineers, computational biologists, analysts and designers who are developing open-source software products for the analysis of genomic and clinical data at large scale, building applications, numerous direct-to-patient portals and capabilities to serve the Broad and beyond.
The Eric and Wendy Schmidt Center is building a global network across academia and industry to conduct cross-cutting machine learning and life sciences research to transform biology. Biology is used to inspire the development of machine learning algorithms that find the causality of the disease and making predictions.
The delegation was interested in understanding the requirements to build such a cloud infrastructure, mostly based on Google Cloud, the interoperability and cybersecurity issues as the DSP hosts human and government data. The model of federated learning to build a model without having to copy the data has been explained as well.
Wearing lab coats and safety googles, the delegates have been given a tour of the Broad Therapeutics Platform, run by Sandy Gould, PhD, Director of Medicinal Chemistry for the Center for the Development of Therapeutics (CDoT).
The Center for the Development of Therapeutics (CDoT) is a highly collaborative organisation of professional scientists who are eager to help Broad principal investigators (PIs) advance their deep biological insights to therapeutics. Their mission is to attract the best collaborators and projects, and to succeed in developing new treatments by using systematic approaches in genomics, biology and chemistry.
Finally, Bill Sellers, Core Institute Member & Director of the Cancer Program explained how the program is structured. The Broad Institute's commitment to finding cures for cancer focuses on scientific research aimed at understanding the molecular mechanisms of each type of cancer and applying this knowledge to transform the clinical practice of cancer medicine. Given the biotech, pharma environment in which the Institute is immersed to, there is a natural ability to interact with companies that have therapeutics interest in cancer.
It was also relevant for the delegation to address with all the interlocutors the question of the funding, the profit share model, IP and the integration of students in research projects, as a benchmark for Luxembourg. Science-related questions with regard to their specific research areas were touched upon as well, as Luxembourg developed scientific excellence in health sciences.
"As a Luxembourg national, I was honored and excited to host the FEDIL delegation at the Broad Institute of MIT and Harvard, where I have worked for over seven years. While the goal of the visit was to introduce the delegates to the Broad Institute and its work, it was an opportunity to also learn about the delegates' fields of expertise to identify common areas of interest. Luxembourg's affirmed growth and competitiveness in health sciences, scientific research, and information and communications technologies is remarkable and offers many places to build bridges with the scientific and data technology communities at the Broad Institute and its affiliated institutions.
Personally, it was a humbling experience to reconnect with my roots and culture through this visit and to be reminded of the exceptional environment in which I grew up, one that gave me the background to become a curious biologist and encouraged me to collect international experiences. This visit and the many discussions it ignited offer a wide range of opportunities to create partnerships that will further establish Luxembourg as a major player in scientific and ICT innovation." states Nadine Fornelos Martins.
Day 2: Focus on Data Management and AI
MIT Media Lab and MIT Connection Science
At the MIT Media Lab and MIT Connection Science Research Initiative, the delegation had a fruitful exchange with Professor Alex 'Sandy' Pentland, Director of the Media Lab & Founding Faculty Director of the Connection Science, Dr. Thomas Hardjono, CTO of Connection Science & Technical Director of the MIT Trust-Data Consortium and Robert Mahari, PhD student in the Human Dynamics group on building trust in data and empowering communities by setting up new Distributed Ledgers Platforms.
MIT Connection Science is a cross-disciplinary effort, drawing on the strengths of faculty, departments and researchers across the Institute, to decode, analyse, predict and interpret trends in this new environment. The aim is to help executives, entrepreneurs and policymakers open up new possibilities by providing deeper insights into improving lives in our ever-changing, hyper-connected world. They lead a global community of researchers and practitioners from leading organisations who are working together to invent the future of Artificial Intelligence, Blockchain, and Big Data, for good.
Sandy provided an overview of some current projects they are working on with Australia, Indonesia, Switzerland, Singapore, the US Government, among others, and insights on data management, data policy and privacy laws.
As Sandy explained, data are now a primary means of production, like capital, labor, and land. Yet, citizens do not trust data and the fact that the AI economy shall act in their interest. They want control over their data and trust in the outcomes. Hence, the fundamental question is how we can build trust and empower communities. This can be done by ensuring data ownerships rights and creating Community Institutions to represent people, responsive to citizens. This would be possible with a mindset change enabling shifting from the data sharing model to a federated model in which data are no longer circulated or provided, but processed internally to answer requests via flows and statistics sharing, instead of individual data as such. It represents a distributed system. The question of Cybersecurity of distributed systems has been addressed as well.
The delegation was curious about data models up and running in terms of benchmark. Sandy mentioned China as the most advanced country in this area. In his opinion, it is worth looking at the India Stack as well, the biggest operational system with a financial payment system bigger than VISA. In Europe, Estonia remains the most famous example, besides Switzerland.
In the following, the Luxembourg National Data Service (LNDS), the context of its creation, its role and position as data intermediary within the framework of the Data Governance Act, have been presented by Romain Martin, First Advisor to the Government at the Ministry of Higher Education and Research. Via LNDS, Luxembourg will be interoperable with other countries. The platform, which is a national organisation providing services for value creation from public sector data, aims at enabling sharing and re-use of data for public and private data partners, offering technology and data services, know-how, capabilities, platform, and infrastructure and developing and supporting solutions for responsible secondary use. In this context, Ulf Nehrbass, CEO of the Luxembourg Institute of Health (LIH), illustrated a use case in the health sector led by the LIH (Clinnova Data Integration Centre – C-DIC).
Some discussions with the MIT Digital Currency Initiative (DCI) researchers on Central Bank Digital Currencies (CBDC) took place as well.
Day 3: Focus on Logistics
MIT Center for Transportation & Logistics
The study trip delegates have visited the MIT Center for Transportation & Logistics, led by Dr. Yossi Sheffi, with whom Luxembourg is already collaborating. He gave an overview of the MIT CTL and SCALE (Supply Chain and Logistic Excellence center) together with Dr. Chris Caplice, Senior Research Scientist, Executive Director.
Joint interview of Dr. Yossi Sheffi – Director of MIT Center for Transportation & Logistics and Professor Katalin Ligeti, Dean of the Faculty of Law, Economics and Finance.
Dr. Sheffi, can you give an overview of the MIT CTL?
The Massachusetts Institute of Technology's Center for Transportation & Logistics (MIT CTL) is dedicated to advancing the field of transportation, supply chain management, and logistics through innovative research, industry collaboration, and educational programs. Founded in 1973, the center has a rich history of pioneering advancements and shaping the future of global supply chains. Over the years, the center has expanded its research focus to encompass a wide range of transportation and logistics-related areas, such as resilience, sustainable supply chains, last mile delivery, digital transformation, humanitarian logistics, supply chain technology, and freight transportation systems. Through interdisciplinary collaboration, the center brings together experts from diverse fields such as engineering, economics, operations research, and data analytics to tackle complex supply chain problems from multiple perspectives.
The MIT CTL's research efforts are driven by close engagement and collaboration with industry partners. The center maintains strong ties with over 50 leading corporations, government agencies, and non-profit organizations to foster knowledge exchange and facilitate the application of research findings in real-world contexts. Engagement with industry ranges from working with students on in class projects, to participating in conferences and events, to sponsoring large-scale research initiatives. This collaboration ensures that the center's research remains relevant and addresses the practical challenges faced by the industry. Indeed, every research initiative that MIT CTL undertakes includes industry participation. At the same time the center emphasizes academic contributions in leading journals.
In addition to research, the MIT CTL is committed to educating the current and next generation of supply chain management professionals. The center offers a range of educational programs, including graduate degrees, executive education courses, online credentials, and industry-specific workshops. These programs provide students and industry professionals with the knowledge and skills necessary to excel in a rapidly evolving global supply chain landscape. MIT CTL developed and launched the first ever MicroMasters credential in 2015. Consisting of five 12-week online courses covering all aspects for supply chain management, the program has had over 1 million course registrations since its inception.
What is the vision and the overall goal of the MIT CTL?
The vision and goal of MIT CTL is to advance the state of both science and practice of supply chain management across the globe through active industry engagement, cutting-edge education programs, and innovative research.
Can you both explain how the collaboration between the MIT CTL and the University of Luxembourg works?
The University of Luxembourg (UL) began its partnership with the MIT CTL in 2015, when the Luxembourg Centre for Logistics and Supply Chain Management (LCL) was established within our Faculty of Law, Economics and Finance. The LCL, as a member of the MIT SCALE network, belongs to an international alliance of leading research and education centers, founded by the MIT CTL and dedicated to supply chain and logistics excellence through innovation.
MIT CTL collaborates with UL in several ways. First, UL students pursuing a Master in Logistics and Supply Chain management (a program which has been consistently ranked #1 in the world among Supply Chain and Logistics Master Programs since 2019 by the Eduniversal Group) participate in the month-long SCALE Connect program that is run each year in January. Joining Masters' students from MIT as well as the four other Supply Chain and Logistic Excellence (SCALE) centers, the University of Luxembourg students work on joint projects, network with industry leaders, and engage with MIT and SCALE faculty.
Second, MIT CTL collaborates with the UL faculty to improve the educational programs at both centers. University of Luxembourg faculty members have taught at MIT during the SCALE Connect sessions and MIT CTL faculty often teaches at the University of Luxembourg. This exchange of expertise broadens the educational experience for all students involved.
Third, MIT CTL and UL work together on different research initiatives. The Computational Analytics, Visualization, and Education (CAVE) lab is a prime example. Originally developed at MIT CTL, the CAVE lab combines advanced optimization and simulation techniques with interactive touch screens to examine and improve how organizations can make better, more holistic supply chain and network decisions. A sister CAVE lab was opened at the University of Luxembourg earlier this year that is collaborating with MIT CAVE as well as with a similar CAVE lab in SCALE's center in Ningbo, China.
Professor Ligeti, what are the next steps?
At the University of Luxembourg, we are proud of our collaboration with the MIT CTL and SCALE as well as the many graduates that have completed the Logistics and Supply Chain Master at the LCL, with our first PhD candidates receiving their doctoral degrees in the past two years. In the spirit of MIT CTL's vision of outreach and collaboration, we have been working hard to expand our partnerships with industry leaders and professional associations, leading to increased opportunities for both our students and researchers. In 2021, we introduced a Digital Procurement Track into the Master, supported by a newly established Chair in Digital Procurement with the Ministry of the Economy as well as the CPO Club, an organization composed of chief procurement officers from multiple multinational companies that operate their procurement organization from Luxembourg. This track keeps with the trend towards digital transformation of our economy and is in line with industry needs and expectations.
We hope to develop the concept further with the 2023 opening of the CAVE Lab at Luxembourg, mentioned above. This state-of-the-art facility uses visualization technologies to promote collaboration and communication between industry practitioners and academic researchers, allowing for the co-creation of dashboards for mathematical decision models that can be used to digitalize decision-making in supply chain management, procurement, and logistics. This practical, collective and interdisciplinary approach brings us into a new era of managing the supply chain.
The delegation continued its visit with a tour of the CAVE Lab given by Dr. Matthias Winkenbach, Principal Research Scientist, Director Megacity Logistics Lab, and of the AgeLab given by Dr. Lisa D'Ambrosio, Research Scientist.
Some research programs were presented as well:
"The Last-Mile Logistics Systems & Visual Supply Chain Analytics" by Dr. Matthias Winkenbach, Principal Research Scientist, Director Megacity Logistics Lab, which focuses on last-mile logistics systems design and planning, E-commerce / omni-channel order fulfillment and mixed / hybrid methods such as Machine Learning / Deep Learning.
"The Environmental & Social Side of Supply Chains" by Dr. Josue Velasquez, Research Scientist, Director Sustainable Supply Chain Lab (LIFT Lab), which aims at alleviating poverty and LIFTing the life of the bottom billion via contributing to the survival and growth of micro & small businesses in Latin America, by improving their supply chain management capabilities.
"Supply Chain Research to Meet Human Needs" by Dr. Jarrod Goentzel, Principal Research Scientist, Director Humanitarian Supply Chain (HSCL), which aims at understanding and improving the supply chain systems behind public services and private markets to meet human needs.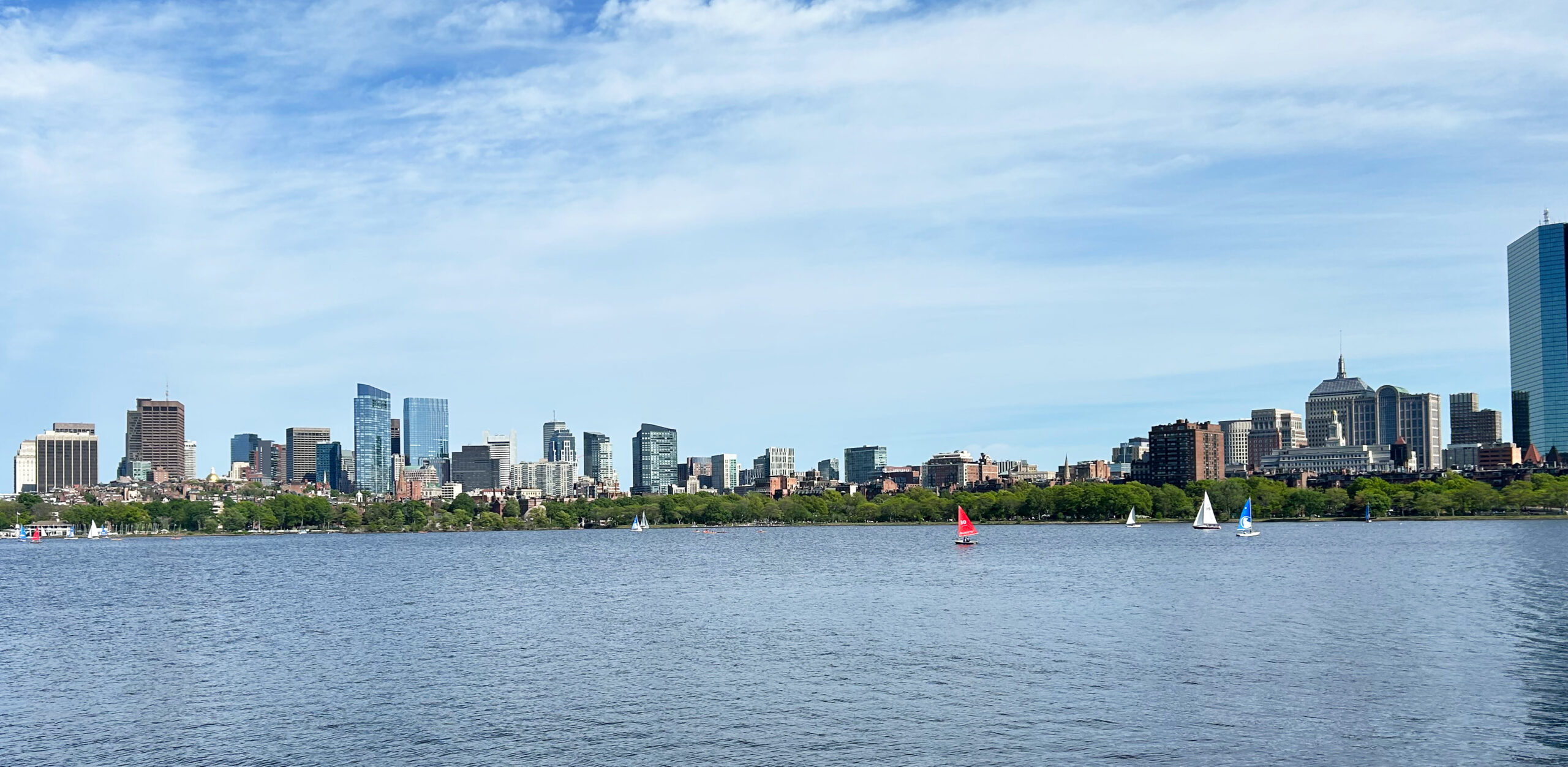 Day 4: Focus on security and AI
On the last day, the delegation had a meeting with Professor Bruce Schneier1, Professor at Harvard Kennedy School who teaches Security Policy. He is an internationally renowned security technologist, called a "security guru" by The Economist. Bruce Schneier is the author of over one dozen books – including his latest, A Hacker's Mind – as well as of hundreds of articles, essays, and academic papers. His influential newsletter "Crypto-Gram" and his blog "Schneier on Security" are read by over 250,000 people. Schneier is a fellow at the Berkman Klein Center for Internet & Society at Harvard University; a lecturer in Public Policy at the Harvard Kennedy School; a board member of the Electronic Frontier Foundation and AccessNow; and an Advisory Board Member of the Electronic Privacy Information Center and VerifiedVoting.org. He is the Chief of Security Architecture at Inrupt, Inc.
The core of the discussions was on early generative AI platforms (ChatGPT), blockchain, crypto, social network business models, and regulatory policies such as the European AI Act and GDPR.
Bruce Schneier generally welcomes the European AI Act, however, in his view, we need to regulate use cases rather than the AI product itself, which is merely a tool. He adds that our legislative processes are no longer adapted to innovation speed in this field. Yet, Bruce Schneier believes that outdated regulation is better than no regulation at all. He believes that the use of AI should not be banned. In fact, students and their teachers, lawyers, etc. will have to learn to live in this world where AI is omnipresent. In future, first drafts of documents in offices and exercises in schools will be written using AI. The question of copyright will therefore have to be resolved.
At the end of all these fruitful meetings, the delegation hosted a reception at Boston harbor with some organizations to strengthen collaboration between Luxembourg and the Boston area.
FEDIL would like to thank all the involved local organizations for hosting the delegation and for the inspiring discussions. FEDIL also extends its thanks to the Luxembourg Trade and Investment Office in New York, in particular to Luxembourg Council General, Paul Steinmetz and his Deputy Kıvanç Ergu, PhD, for their support in organising the trip.
The delegation was composed of Michèle Detaille, Jean-Louis Schiltz, Yves Elsen, Christophe Goossens, Gerard Hoffmann, Paul Konsbruck, Cliff Konsbruck, Georges Muller, Laurent Loschetter, Romain Martin, Sasha Baillie, Jean Hilger, Jens Kreisel, Katalin Ligeti, Ulf Nehrbass, Bjorn Ottersten, Daniel Schneider, Georges Santer and Celine Tarraube.