Introduction
2030 National energy efficiency targets
The Luxembourg government has adopted a 2030 target to increase energy efficiency by 44% compared to the EU Primes model (2007). According to the National Energy and Climate Plan (NECP), this corresponds to a total reduction of the final energy consumed by all sectors of approximatively 14,5 TWh.
Energy efficiency in Luxembourg's industry
Energy efficiency efforts can contribute to clean energy transitions and have the potential to cut the energy costs of businesses, thereby boosting their competitiveness.
Continuous energy efficiency improvements in industry over the last two decades allowed to realize the most low capital-intensive energy efficiency potentials. Thanks to those efforts, the industry's energy efficiency level is advanced today, especially for non-core industrial side-processes.
However, today it has become challenging to identify and exploit yet further profitable efficiency potentials. Most energy savings in the industry are small, incremental and have long payback times which does not make them particularly attractive to implement. Significant energy efficiency improvements are typically the result of a technology switch, where a next-generation technology brings energy savings. A good example is the switch from traditional illumination technologies to highly efficient LED lights. Once every technical and organizational possibility of reducing illumination time has been exhausted, only a technology switch can produce further energy savings.
This article will explore the main challenges for further energy efficiency improvements in the industrial sector and discuss possibilities to address those challenges.
Energy consumption and energy efficiency in Luxembourg's industry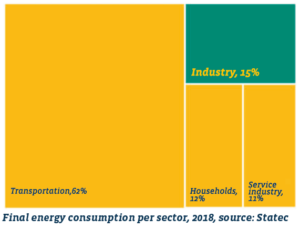 Industry accounts for 15% in Luxembourg's final energy consumption in 2018. When assessing to what extend energy efficiency efforts in the industry can contribute to the national efficiency target, it is important to note that the 2030 national energy efficiency target is expressed as a reduction of the final energy consumption. It compares to the notion of energy efficiency in industry, which generally refers to energy consumption relation to production output.
According to the measures defined in the NECP1 and the measures already in force to address greenhouse gas (GHG) reduction and energy savings in the transport sector, a major part of the national efficiency target will be achieved through a delocalization of fuel sales, resulting in an important reduction of Luxembourg's final energy consumption. Knowing that the introduction of the CO2 tax has increased the fuel price differential compared to the neighbouring countries, fuel sales, especially towards transporters, will drop in the coming years. The national target will also be strongly influenced by the industry's dynamic in the coming years, especially in the energy-intensive sector.
Existing energy efficiency policy tools
Energy efficiency Voluntary agreement (VA)
Since 1996, FEDIL manages a voluntary agreement for energy efficiency efforts in Luxembourg's energy-intensive industries. Companies adhering to the voluntary agreement commit to improving energy efficiency to benefit from special tax rates and special contribution rates under the national compensation mechanism. This instrument has improved energy efficiency in Luxembourg's industry of 20% between 1990 and 2010.
The 2017-2020 Voluntary agreement
The last voluntary agreement covered the period 2017-2020 and counted the participation of about 50 energy-intensive companies. Adhering companies committed to achieving the common objective of improving all participants' overall energy efficiency by 7% by the end of 2020, compared to the period of reference (i.e. average of 2014 & 2015). They also committed to a series of measures designed to support energy efficiency improvements:
Establishing efficient energy management within the organization;
Monitoring energy efficiency related data;
Performing an energy audit;
Participating in training sessions;
Participating in best practice sessions;
Consulting with obligated parties (i.e. energy and gas suppliers).
The 2017-2020 voluntary agreement, managed in cooperation between FEDIL and myenergy, has again proven to be a successful tool for energy efficiency improvements in the industrial sector, especially in energy-intensive industries. Total energy savings of 350 GWh were achieved during the period 2017-2019. This represents an average improvement of 6,87%.
Efforts made by companies adhering to the 2017-2020 voluntary agreement have shown encouraging results in terms of the energy efficiency index (IEE) and exceeded the expectations of the voluntary agreement in terms of achieved energy savings.
However, unlike energy savings which provide results that have been achieved over the long term once implemented, the energy efficiency index can fluctuate favourably or unfavourably at any time because it is subject to
various hazards: the individual performance of member companies, economic conjuncture, productivity gains, etc..
The 2017-2020 Voluntary agreement in the COVID-19 crisis
As the 2017-2020 voluntary agreement entered the last year of the period, the measures to contain the corona crisis led to a significant deceleration of Luxembourg's economic sectors' activities. Although energy consumption significantly decreased in 2020, and while those energy savings would constitute an energy efficiency improvement in the national target context, the industry could not account the energy savings in the voluntary agreement.
On the contrary, the drop in economic activity significantly impacted the agreement's target indicator, as it measures energy consumption to production output.
A total standstill of the production output as experienced in many sectors during the corona crisis is the worst case
for companies running tools that cannot be switched off.
Furthermore, the energy efficiency index' balance is established by measuring the efforts achieved in the « landing year » compared to the period of reference.
This methodology prevents intermediate achievements or improvements to be considered. Due to the disruptions caused by the coronavirus in 2020, the very year determining the achievements of the VA's whole period could not be considered representative for the industry's energy efficiency efforts during the period
2017-2020.
Therefore, the signing parties of the VA decided to adapt the landing year to be considered to the year 2019 to represent industry efforts more accurately.
Energy efficency obligation scheme (EEOS)
In 2015, the Luxembourg government introduced an energy efficiency obligation scheme (EEOS), which requires electricity and gas suppliers (i.e. obligated parties) to achieve energy savings for the customers. The new legislation from 2020 sets a target for the period 2021-2030 of 1,5% energy savings per year. In order to achieve this target, obligated parties can offer financial support or advise services to consumers regarding the implementation of energy efficiency measures.
Although the new legislation addresses previous market entry issues, the targets set in the current EEO Scheme represent a major challenge. The compounding effect
of high energy efficiency targets combined with lower saving claims creates a widening gap so that obligated
parties are going to have a hard time to follow with proportionate and cost-effective measures.
Barriers to energy efficiency in Luxembourg's industry
Limited potential for low capital-intensive energy efficiency projects
Further profitable efficiency potentials in industry have become even harder to identify as most of the so-called « low-hanging fruits » have been picked. Most energy efficiency gains in the industry are incremental and have long payback times. Further important improvements are typically realized thanks to a technology switch, where a next-generation technology brings the energy savings (for example, switch from traditional illumination to efficient LED lights).
Long payback times for further energy efficiency measures
The main barrier to energy efficiency improvements is certainly the long payback times for projects that would enable important improvements. The marginal costs for further energy efficiency gains are continuously increasing, the more efficient the industry becomes. This means that if the energy-intensive companies are to further increase efficiency improvements at the same pace as in the past, energy efficiency efforts can no longer focus on incremental improvements of low capital-intensive industrial side-processes. Major core industrial processes with high energy consumption need to be targeted. However, refurbishing such core processes involves higher levels of investments, higher risks, and much longer payback times. Therefore, motivating the industry to review those processes will require support schemes that help improve the business case of such investments.
Long investment cycles prevent continuous efforts
In Luxembourg's industry, it is safe to assume that the most substantial energy efficiency potentials are tied to half a dozen company's core processes from the energy-intensive sectors of steel, glass, cement, or aluminium production. Next-generation technology switches or upgrades also realize energy efficiency gains in these sectors. However, knowing that the investment cycles in these industries are typically between 15-25 years, it is evident that significant energy efficiency gains cannot be expected to be delivered continuously.
Limited financial capabilities and competing investment opportunities
Energy efficiency measures will always be competing for investment with core business activities. All the more, considering that the COVID-19 crisis has severely impacted private investment capacity and attention is focused on reviving production levels. Investments in energy efficiency are at risk of being deprioritized because they often take a long time to pay for themselves – even longer under current conditions. Activities such as marketing or production optimization may be prioritized in investment decisions.
Production process related barriers
As energy consumption in energy-intensive production processes is rarely linearly related to production output, energy efficiency can be strongly influenced by production output changes. This can be explained by the fact that some manufacturers require a minimum energy consumption level under which no production is possible and not all production tools can be switched-off efficiently. This is mostly the case for high-temperature processes where switching the process tool off between two badges or shifts requires more energy to fire it up again than leaving it on a stand-by temperature.
Furthermore, some Luxembourg's industries tend to produce more added-value products to increase productivity or respond to a demand for higher quality products (especially for the technology sector). This can harm energy efficiency as it may lead to an « overconsumption » compared to the traditional production process, especially in the metal processing sector.
Finally, some production tools have a natural decline in energy efficiency. Important energy efficiency improvements will once again come only from a technology switch. This is especially the case for production tools with high-temperature processes.
Possible climate target conflicts can negatively affect energy efficiency
In addition to energy efficiency targets, most industrial companies need to implement measures to address GHG reduction and air quality targets. However, important CO2 reductions in industry will be achieved through electrification efforts by switching from use of natural gas to renewable energy. But not all electrification efforts result in energy-efficient improvements. Natural gas appliances have traditionally been the more efficient options, with very efficient equipment in condensing boilers and water heaters for instance.
Another example is the use of renewable heat sources, which contribute to renewable energy development but not necessarily to improving energy efficiency in the industry. On the contrary, energy efficiency might even suffer temporarily. A switch towards renewable heat sources or new technologies able to process the latter need recalibration to find new process optimums. It also needs time for new alternative technologies to become as energy efficient as the mature ones now in use.
Uncertainties related to energy efficiency projects
Volatile energy prices or unexpected complications in energy efficiency projects can create uncertainty in investment returns, leading to longer than expected payback times and resulting in delayed decisions on energy efficiency projects. Efficiency projects will always remain subject to external factors influencing the projected savings, so that the identified potential may not be completely achieved.
The short-term effects of COVID-19 on energy efficiency in industry
Measures to contain the virus can hurt short-term energy efficiency. To limit the spread of the virus, the operating mode of the ventilation systems in many factories operates in « only fresh air » mode, without recycled air. This can temporary lead up to a 30% energy overconsumption compared to the traditional standard.
Energy efficiency in industry – The way forward
Energy efficiency in the industry needs to be considered as part of a global effort by companies to reduce GHG emissions. However, the impact of energy efficiency gains on CO2 reduction is relatively low compared to other GHG reduction possibilities (PV, use of heat, etc. ). Most non-capital-intensive, and profitable energy efficiency potentials lie in small electric powered industrial side-processes rather than in major CO2 emitting core processes. They can be realized mostly by switching to a new, more efficient technology generation.
Companies need to find the right balance between measures designed to achieve different climate targets and considering the effects of one towards the other. Through their energy intensive nature, energy cost control and comprehensive energy optimization will remain an important driver for continuous efficiency efforts in the steel, aluminium, glass, or cement manufacturing sector, but an adequate incentive frame will be needed to achieve significant efficiency improvements.
Knowing that the pace of technology change is different from one sector to the next, smart climate policy can influence the rate of technology change to a certain degree. Despite the most sophisticated climate policy, however, identifying energy efficiency potentials turn out to be a very different challenge depending on the very sector. The main difference comes from whether acknowledged alternative and more efficient technologies are available to that sector.
A new, more comprehensive voluntary agreement for energy-intensive companies
As the 2017-2020 voluntary agreement recently came to an end, a new edition is currently discussed. Adhering companies acknowledge that the voluntary agreement and the underlying benefit scheme constitute the measure from the National Energy and Climate Plan (NECP) for industries that will allow the biggest impact in GHG reduction. It is, therefore, all the more important to better align the voluntary agreement to the NECP measures while also better addressing structural, technical and financial limits to energy efficiency improvements in the industry. Previously mentionned barriers have proven to have intensified during the COVID-19 crisis and many investment projects have been postponed because of limited financial capabilities. Measures implemented by member states to contain the virus have added more uncertainties to the energy efficiency projects. Cross-border travel restrictions lead to complications in distribution chains and may prevent or delay cross-border services when intervention teams from different countries are needed to implement energy efficiency projects.
It can be assumed that the effects of the COVID-19 crisis will continue to affect energy efficiency potential at least during 2021, resulting in two years of lost potential in the context of the voluntary agreement.
It should be clear that excessively ambitious efficiency targets in the current situation risk leading to substantial higher electricity and gas prices if companies are not given the necessary options to achieve the objective. This would have a damaging effect on an important element of competitiveness in terms of industrial policy and on the realization of future industrial investment projects.
A future, more comprehensive voluntary agreement, based on a global GHG reduction approach and including an energy efficiency and a renewable energy component may allow to better redirect investment to projects with the the biggest impact in terms of GHG reduction. Considering renewable energy efforts to a certain extent as eligible efforts in the voluntary agreement will leverage new potential for GHG reduction.
Furthermore, training efforts will remain an essential driver for further energy efficiency improvements in the industry. Increased flexibility in designing the training requirements in the voluntary agreement will allow to better tailor training efforts to the individual company's need. Considering that digital solutions will certainly contribute to identifying further potential, on-site training models based on continuous coaching will play an ever more important role.
Changes in the benefit schemes and in the scope of the voluntary agreement could substantially increase the industry's contribution to reaching the national climate objectives as described in the NECP.
A new voluntary agreement for smaller consumers
The National Climate and Energy Plan announced to expand the scope of the voluntary agreement to include a larger number of smaller companies. However, the current VA's design is optimized to motivate large consumers to reduce their energy needs. Its level of benefits and requirements is in direct relation to the volume of their initial energy consumption. Adhering companies are required to invest in energy audits, training- and knowledge exchange sessions to be able to benefit from financial incentives.
However, for less significant energy consumers, benefits based only on the level of the energy consumption may not be able to weigh-out the investments required to adhere to the scheme.
A different type of agreement that considers those companies' specificities could effectively contribute to energy efficiency efforts in less energy-intensive sectors.
Policy tools focusing on improving return on investment
To enable major energy efficiency measures to be realized, policy tools need to focus on improving the business case of technology switches. The importance of a solid business case grows with the capital intensity of a technology switch. In general, the energy efficiency improvement and a related CO2 reduction increase with the capital intensity of the technology switch. Financial mechanisms that support shared investment schemes could help implement energy efficiency projects with long payback periods. Company oriented policy instruments like promoting third party financing and striving for long-term energy strategies are more likely to encourage energy efficiency investments.
Therefore, a well-designed « de-risking tool » announced in the National Energy and Climate Plan, might be able to improve the business case of some energy efficiency projects in Luxembourg's industry. However, the « de-risking tool » cannot be considered as a magical solution to tackle long payback times and high risks of investment projects as risk aversion has naturally increased during the COVID-19 crisis. In the current situation, it remains somewhat questionable to see a critical mass of third parties eager to share
the risk of significant efficiency projects in industry with long payback times.
Complementary policy tools
The synergetic effects between the voluntary agreement (VA) and the energy efficiency obligation scheme (EEOS) as tools for energy efficiency improvements have shown to be mutually beneficial to increase energy savings. It makes much sense to continue and further foster synergies between existing and coming policy tools.
Commitment to already approved financial incentives
Allowing companies to postpone planned investments in energy efficiency or emission reduction, without losing the financial incentives already agreed with the government would enable to unleash energy savings that may otherwise not be realized.
OPEX funding models allow to transform capital expenditure to manageable operational expenditure
OPEX investment models for energy efficiency projects offer the opportunity to convert what would have been a potentially large capital expenditure into a manageable and predictable operational expenditure. In fact, in some cases, the energy savings achieved through the investment will allow funding for the projects, converting a large upfront cash investment into a payment option that can actually generate positive cash flow instead of waiting for a standard return on investment. Often, financing departments also prefer OPEX because it reduces the company's owed income tax. Also, OPEX is often more easily approved, whereas CAPEX projects must go through multiple managerial levels for approval.
With limited private and public investment capacity, it will be important to ensure increased flexibility in granting investment and operating aids for efficiency projects.
Digitalization and energy efficiency
The increasing marginal costs of energy efficiency could be encountered by promoting the deployment of the latest technologies. Decreasing costs of IoT technologies coupled with artificial intelligence or professional supervision
can help to broaden the scope of processes to be optimized. It is thus worthwhile to further develop programmes incentivizing the specific use of technology to improve energy efficiency.
Artifical Intelligence (AI) for energy efficiency in industry
par Olivier Auchet  (Enovos Services) et Loïc Fargette (Energiency)
2020 has profoundly reset communication habits in businesses. Today, an expert and an engineer, both at home, can talk about what is currently happening in the factory. Thanks to technologies like IoT, big data, artificial intelligence, they can even analyse and eventually decide to take action, with remote control of the plant.
New technologies and innovative solutions will play an ever more important role in contributing to energy efficiency improvements in industry. Digital and AI solutions may already fit into the eligibility criteria of financial support schemes related to the energy efficiency, making them more attractive to implement. They fit well to the continuous improvement culture of industrial plants and allow to grab the last percentage of improvement of energy intensive equipment. In 2020, the "enoprimes" program, in combination with the "Neistart" recovery program, played an important role for the deployment of AI technology in several factories part of the FEDIL Voluntary Agreement, with promising results so far.
In the current economic context, investments for new Capex are rather limited. Industry 4.0 technologies mixing human interaction and artificial intelligence have, however, the potential to enable manufacturing companies to leverage available data and to detect and achieve new energy and CO2 savings without the need for investments with long payback times.
These data are often under-used even though they are a great potential source of competitiveness. In addition, regulations and environmental standards (ISO 50001 standard, mandatory energy audits, voluntary agreement commitments, etc.) encourage manufacturers to equip themselves with tools to manage their energy performance. However, 8 out of 10 factories in the world are still using a spreadsheet to analyze energy data , which is unsuited considering the growing need for real time decisions and actions from operators in the workshop.
Energy intelligence technologies for the manufacturing industry allow energy managers or production and maintenance operators to visualize and analyse their energy performance in real time. Thanks to the real-time analytics, they know when and where a corrective action is required on their machines and/or on their operating procedures in order to materialize continuous energy efficiency improvements.
Data Scientists are on the front line to support manufacturers in this phase of data analysis. They use 2 families of models: machine learning and deep learning. The following diagram illustrates the steps involved in modelling an industrial phenomenon with artificial intelligence:
Data Scientists begin with a potential energy saving audit based on historical data, which enables them to:
Identify the relevant influencing factors and quantify the weight of these factors on consumption;
Create energy consumption models;
Calculate the potential for energy savings.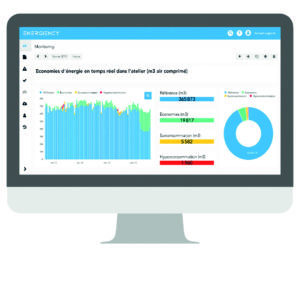 Once the AI models have been tested and sufficiently trained, models are implemented in the energy performance software. It will allow the users of the software (energy managers or production and maintenance operators) to take the relevant decisions according to the energy drifts and consumption patterns observed.
Regular energy coaching reviews are also taking place to support the analysis and facilitate correction actions implementation, so as to actually materialize savings on the long run.
AI solutions for energy efficiency have already been successfully implemented with manufacturers in Luxembourg such as ArcelorMittal, Guardian or Hydro, with real energy savings achieved.
Sites with lower energy consumption or with less available data can also benefit from AI applications. They can centralize and organize data in an ergonomic tool, set up relevant KPIs, dashboard and energy accountability analytics, so as to monitor energy performance in real time and generate automated reports for the different needs of the company.
But AI is only a tool! We talk a lot about digital, but digital alone does not go very far. Manufacturers need to arm themselves with digital skills, experience and good human intuition in parallel.